Climate & Nature Fact Deck
Data-graphics for a historic TV debate
Challenge
Climate change was central to the 2019 general election. Over 120,000 people demanded the first-ever televised election debate on the issue, and Channel 4 agreed to host. 
Ahead of the event Greenpeace wanted to provide viewers with a clear overview of the climate commitments made in leading party manifestos.
We were commissioned to come up with a clear visual system that would convey comparative data. The outcome needed to be easy to interpret, and suitable for adaption across digital social media channels and printed broadsheet advertisements.
Solution
We created a set of bold bar chart-based infographics inspired by classic type-led boxing bout posters. The overarching aesthetic sends-up a series of boxing themed media events staged by politicians during the run-up to the 2019 general election. The format sent home the notion of head-to-head debate, and challenged Prime Mister Boris Johnson to turn up.
Clear, reconfigurable communication design combined with Greenpeace's grade-based analysis provided an opportunity to introduce attention-grabbing animation.
We took care to design around the avatar and reply text fields that automatically appear at the top and foot of every Instagram Story. This attention to detail meant that we were able to improve legibility across varying mobile devices and screen ratios.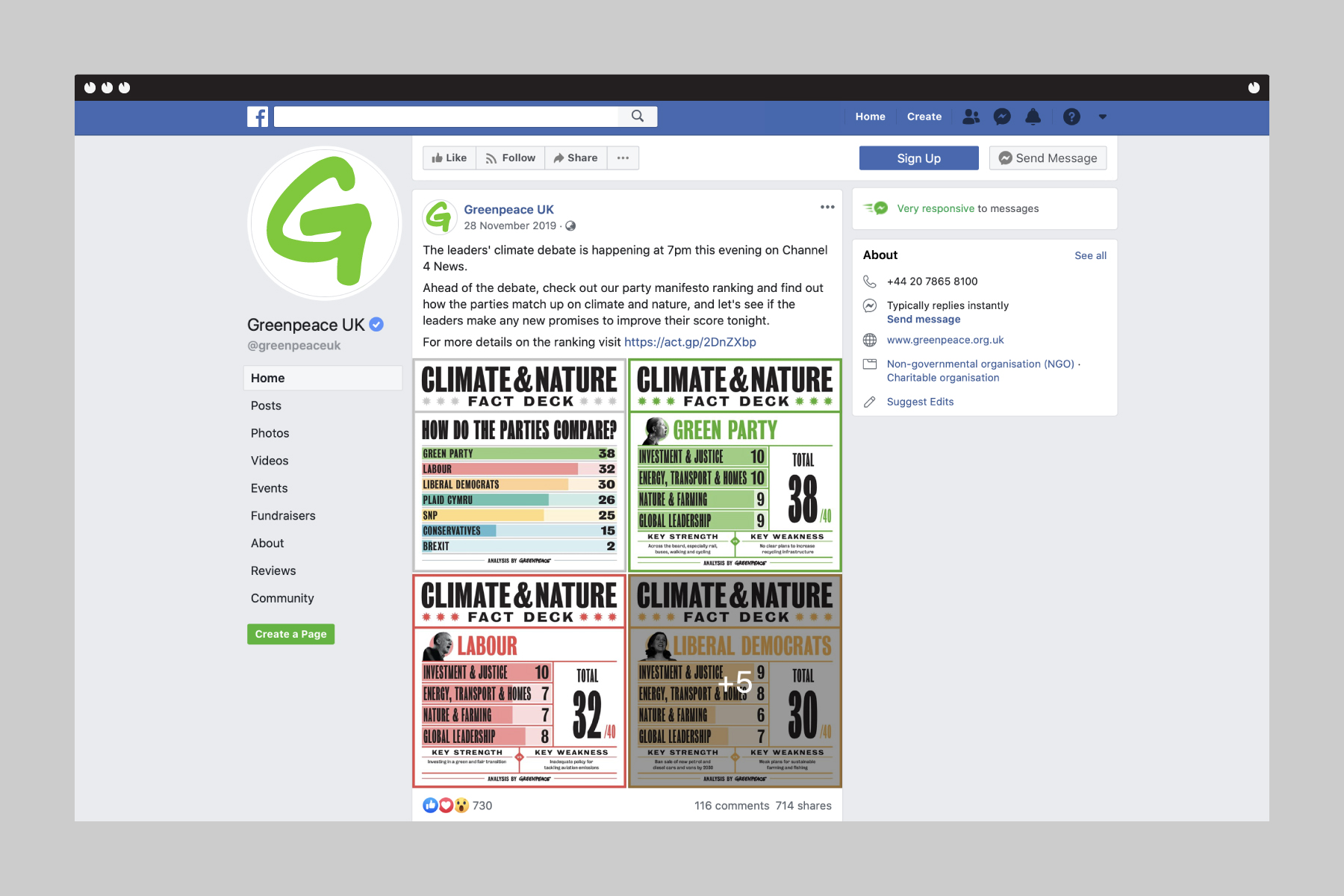 "This project is causing quite a stir. You wouldn't believe the response; leading parties are sending policy documents direct to Greenpeace. Some contain new commitments. We've engaged them in a race to the top."
Ian Duff
Program Director
Greenpeace
Impact
The strength and reach of our work prompted politicians to contact Greenpeace with requests for amends to account for climate commitments excluded from their manifestos.
Over 400,000 readers of The Times newspaper saw our promotional poster in print.